Antipasti
-starters-
Polpette di Manzo / 12
(Sicilian Meatballs)
grated pecorino, basil, tender beef
Arancina / 14
(House made Sicilian rice balls)
risotto ball, beef, mozzarella center, peas, marinara sauce
Caponata Siciliana / 11 (CN, VT, VG)
sautéed eggplant, olives, capers served w/ grilled bread, pine nuts
Nostra Bruschetta / 11 (VT)
grape tomatoes, roasted garlic, EVOO, fresh basil, crostini (add prosciutto /+6)
Pecorino Truffle Fries / 11 (VT)
thick cut fries, parsley, pecorino romano cheese, truffle aioli
Calamari Fritti / 18
fried calamari, fresh herbs, pepperoncini aioli, arrabbiata sauce
Cheese and Meat Board / 40
imported artisan meat & cheese assortments – served w/ Caponata Siciliana, olives, fig jam, bread slices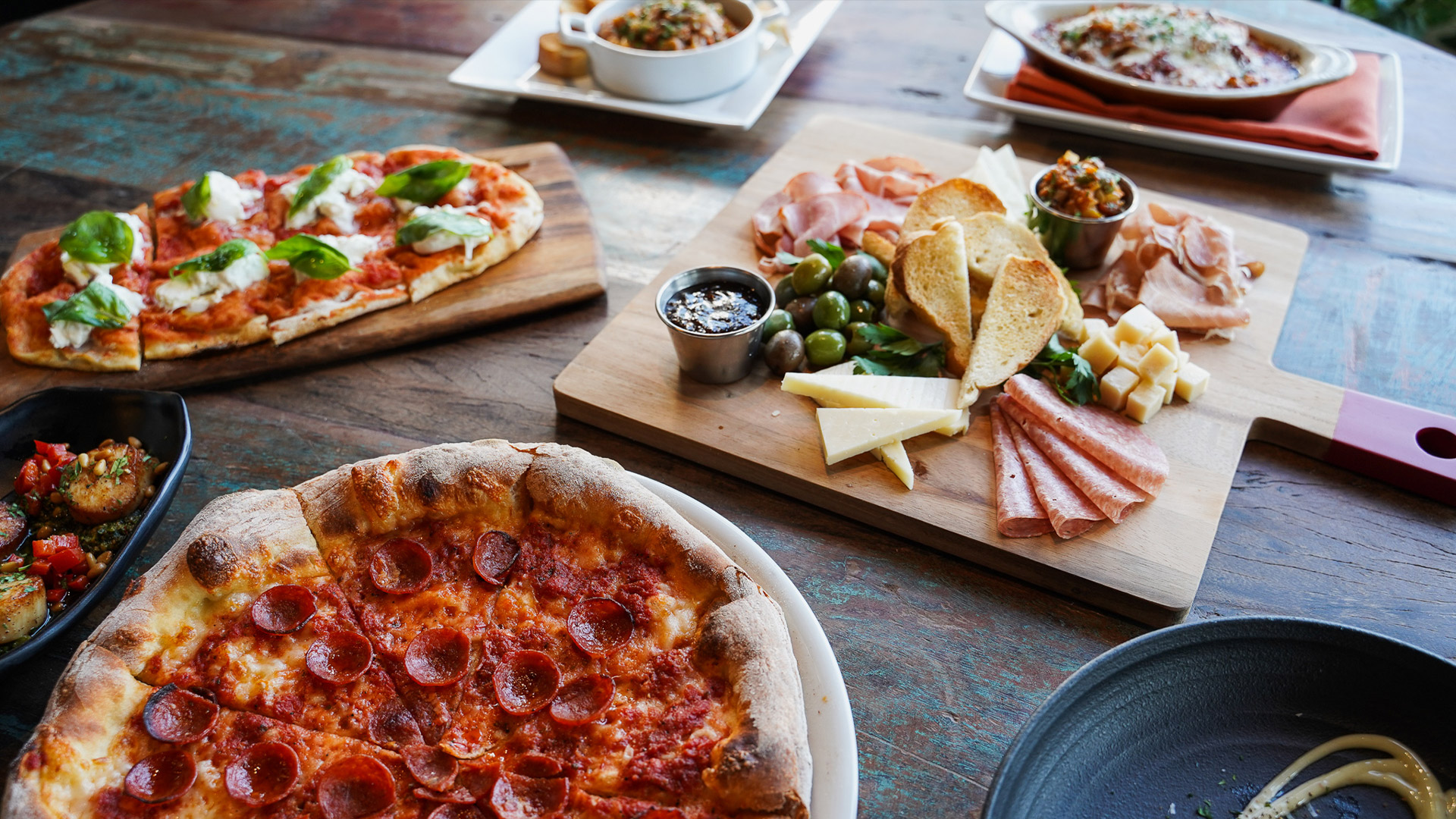 Insalata
-salad-
Add organic chicken breast / +9
Cesare / 12
hearts of romaine, parmigiano reggiano, garlic croutons (add anchovies / +2.5)
Nostra Caprese / 16.5 (CN, VT)
creamy burrata, cherry tomatoes, pesto, served w/ grilled bread (add prosciutto crudo / +6)
Sicilian Mixed Greens / 12 (VT, VG)
marinated cucumbers, heirloom tomatoes, carrots, bell peppers, red onion, 15 yr. aged balsamic vinaigrette
Insalata di Rucola / 12 (VT)
arugula, winter citrus, ricotta salata, pistachio brittle, honey citrus vinaigrette
Dolci
-desserts-
Pride Rainbow Cheesecake / 13
new york style cheesecake
Tiramisu / 12
ladyfingers soaked in Caffe Vergnano 1882®
Espresso with mascarpone and cocoa
Cannoli Siciliana / 12
creamy ricotta filling, pistachio,
chocolate sauce, powdered sugar
Italian Style Banana Split / 16
caramelized banana, almond/hazelnut
biscotti, whipped cream, hazelnut gelato
& chocolate sauce
Gelato or Sorbet / 10
assorted flavors
Ancient Roman Recipe & Technique
Three flour mixture: wheat, rice & soy. Flour imported from Italy, 80% hydration, low yeast, 48-96 hrs. fermentation. No animal fats, non-GMO. Delicious, healthy, vegan and easy to digest
Margherita / 20.5 (VT)
house crushed tomato, burrata cheese.basil, sea salt, EVOO (vegan cheese option/+ 2)
Amatriciana / 21.25 (VT)
house crushed tomato, guanciale, Pecorino Romano, calabrese chili, EVOO
Nostra Salsiccia e Broccolini / 21.75
mozzarella, broccolini, pork
sausage, burrata, black pepper
Nostra Salsiccia e Broccolini / 22.5
mozzarella, broccolini, pork sausage, burrata cheese, black pepper
Patriottica / 21 (CN, VT)
house pesto, burrata cheese, cherry tomatoes, aged balsamic glaze, basil
Tavola Nostra's Dolce e Salato / 22.5
mozzarella, guanciale, pecorino Romano, honey (add Mike's Hot Honey /+2)
PLEASE NO MODIFICATIONS OR SUBSTITUTIONS
Lasagna Della Mamma / 22
ricotta cheese, bolognese ragu, organic beef
Pasta Marsala / 17
cremini mushroom, 24 mo. aged parmigiano reggiano, fresh parsley, creamy marsala wine sauce (add organic chicken / +9)
Pesto / 17 (CN, VT, VG)
spaghetti, parmigiano reggiano, toasted garlic. pine nuts, basil, pesto (sub GF pasta / +2)
Penne all'Arrabbiata / 16.25 (VT, VG)
spicy chili oil, basil, garlic, parsley, EVOO, red sauce (add cubed spicy talian sausage /+6) (sub GF pasta / +2)
Cacio e Pepe / 17 (VT)
Spaghetti, toasted black pepper, pecorino (sub GF pasta / +2)
Mamma's Spaghetti with Meatballs / 20
spaghetti, three tender all beef meatballs, meaty marinara sauce
Pappardelle alla Bolognese / 21
Pappardelle, house ragu, Parmigiano Reggiano cheese
Secondi
-main dishes-
Pollo alla Parmigiana / 26
(Chicken Parmigiana) w/ Spaghetti
Italian breaded tender Organic chicken breast, spaghetti marinara
12″ Pizza Classica
(NY Style)
-Oliveri Family recipe-
Handmade artisanal pizza dough slow rise 24-72 hrs.
Classic Pepperoni / 18
pizza sauce, Ezzo cup & char pepperoni, mozzarella
Ross' Pizza Special / 24
pizza sauce, mozzarella, Ezzo pepperoni, calabrese sausage, mushrooms, mixed bell peppers, onions, black olives
Silvio / 20
pizza sauce, mozzarella, Ezzo pepperoni, sausage, mushrooms
Mamma's Cheese Pizza / 16 (VT)
pizza sauce, mozzarella
Margherita/ 16.5 (VT)
crushed tomatoes, Fior d' Latte mozzarella, basil, EVOO
Spinacina/ 19
mozzarella, spinach, ricotta black pepper cream, 24m Prosciutto Di Parma, shaved ricotta salata, EVOO
Rucola Prosciutto /21
pizza sauce, mozzarella, arucola, 24m prosciutto di parma, shaved parmigiano reggiano, EVOO
PLEASE NO SUBSTITUTIONS, MODIFICATIONS OR ADDITIONS
Breakfast
( Today Only – 8am – 11:30am )
Fritatta / 12
eggs, potato, carrots, asparagus,
peppers, onion, tomato, herbs,
mozzarella, pecorino, parmigian
Italian Hash / 12
peppers, onion, tomato, mozzarella,
parmigian, herbs, 2 fried eggs
(add sausage +3)
Pinsa Carbonara / 15
mozzarella, italian bacon, egg sauce
Pecorino Truffle Fries / 11
thick cut fries, parsley, pecorino
romano cheese, truffe aioli
Mini Calzone / 11
mozzarella, sausage, bell pepper
DESSERT
Zabaione / 8
berries, whipped cream, biscotti, mint
DRINKS
Mimosas / 10
prosecco with a splash of juice
CN: Contains Nuts
VT: Vegetarian
VG: Vegan
In order to keep the utmost freshness our food comes out as it is made, therefore, it may not necessarily come out together. Substitutions may result in an additional charge.
18% gratuity will be added for parties of 6 or more.