All are welcome at "Our Table"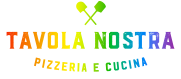 Tavola Nostra recently had a chance to speak with the LGBTQ San Diego News who wrote an article speaking with the owner. The article discusses some of the family history. The meaning of "Tavola Nostra" and some of the struggles of opening and running a restaurant during a pandemic 
As you know the Hillcrest area offers a truly unique feel
And is full of folks looking for an authentic Italian dining experience. The article also reflects the values and culture of Hillcrest. Jeff Oliveri also states that the sense of culture in Hillcrest drew him to opening his restaurant in "The Hub" and has had nothing but the best experience and is eager to share his love of Italian food with the community. 
 Tavola Nostra has an outdoor dining area to enjoy the beautiful San Diego sun
And they plan on opening up their indoor dining area as an option to give people a chance to experience what it really means to be welcome at "our table". 
See what makes Tavola Nostra so special and experience more than just another pizzeria in Hillcrest. Reserve a table